(That's if you call 2011 old)
We were planning a holiday on a remote Scottish Island two years ago. I didn't blog then, but thought you might like to read this. The cottage we had booked was an ancient drover's cottage positioned on a rocky point of the island. It used to be a port for cattle to be rounded up towards, and they were then tethered up and swam to the next island, walked across that one, then swam to the mainland, ready for a long walk towards the highland cattle markets! The cottage only has a bath and no shower, the water is brown as it comes from pipelines on the island, there were minimal conveniences - no phone or TV or wifi - just electricity for cooking, heating and lighting and a lovely log burning fire.
We loved it! The remoteness, the rustic living, and the simple basics.
We had planned to do some walks and some drives on the island as well as some fishing. I had planned to be all domestic and do knitting by the fireside, read, play board games and do all the cooking myself! It's not often that I can spend all day fiddling over the evening meal, and I had built up a collection of "Want to Try One Rainy Day" recipes that would be perfect for Autumn cottage living.
So, apart from all this, there was something else I wanted to do....ssshhh.....come closer......it's my guilty little secret that I don't tell any of my real friends but feel safe in sharing with my online friends....here it is....
I wish I lived in the past. I wish I could wear period costumes in the day time. I wish I could go for walks and do the cooking in a hoop skirt.
And so I decided that I would! We would be so secluded that nobody would see. So I bought a sewing pattern online, went to the fabric shop and chose some lovely material, and I began a massive sewing task! My Mr thought I was a bit silly but I didn't mind.
Simplicity 3727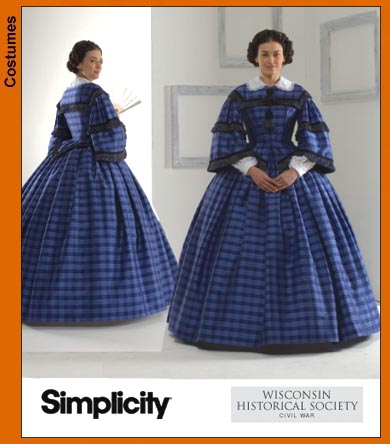 Here is some of the review that I've written onto the Pattern Review website.
Did it look like the photo/drawing on the pattern envelope once you were done sewing with it?
My sleeves don't appear as gathered as the ones on the envelope, they are definitely pleats, but I don't mind, I really like the sharp look they give. But I did iron them in, you could probably just not press them.
Were the instructions easy to follow?
Yes, very easy to follow. Lots of details too.
What did you particularly like or dislike about the pattern?
I liked everything about it. There was a lot of hand sewing involved though, but I guess it is trying to be as authentic as possible, which is probably a good idea. The skirt pleats took ages but they do look amazing and I can't imagine them working as well done any other way.
Fabric Used:
A shiny, jacquard curtain fabric from Dunelm Mill. I tried hard to match the patterns on the bodice and sleeves.
Pattern alterations or any design changes you made:
I didn't add the trim at all, as I felt that the dress was pretty impressive as it is, and didn't need any embellishments on me. I did buy brown velvet ribbon but decided not to use it here.
These are the only change I made: First on the white sleeves. Instead of attaching them to the dress, I put elastic in the hem and wear them snug around my upper arm. This way they are unattached and can be easily washed. I also didn't attach the collar, but instead just tuck it in and it stays quite well.
Second was the opening at the front. It gaped a little where the hook and eye closures were, so I hand stitched a length of the brown velvet ribbon to the inside of the hooks so that if you do get a peek, at least you aren't seeing the corset underneath, just the brown velvet instead.
Third change was the pillow bustle. I did make this, but when I wore it, I didn't think it was flattering at all, so it's in the cupboard. I am fairly well endowed in the hip and bottom area so was able to get away with just emphasising the thin waist and relied on the hoop petticoat I got from ebay to give it all the sticky-outy-ness it needed.
Would you sew it again? Would you recommend it to others?
I'd like to do the bodice again but without the high neck or sleeves. If I made just the bodice and small bell sleeves, then it could be worn with the skirt as an evening gown. That way I'd get more wear out of it.
Conclusion:
Love it! Loved making it and more than that, I love wearing it.
So finally, here are some photos of me on the Isle of Mull, Scotland. Please scroll down, as there are a quite a few.